Sarkar Plywood Rubber Wood
WOOD USAGE
Wood has been used by us for a very long time for construction and other purposes. Forests were the main source of wood. As the world's population grows, so does the demand for wood. With the industrial revolution, the demand went further up. Indiscriminate deforestation is causing global warming symptoms such as melting polar ice, increasing sea levels, draughts, and subsequent catastrophes. With the advancement in Science and Technology, several alternate materials like metals, plastics, and composites with improved strength and working properties were developed. Yet, none of them had the same feel as wood, and it was determined that there is no true substitute for wood. The continued search for wood led to the utilisation of secondary species of wood like rubber wood, a plantation timber.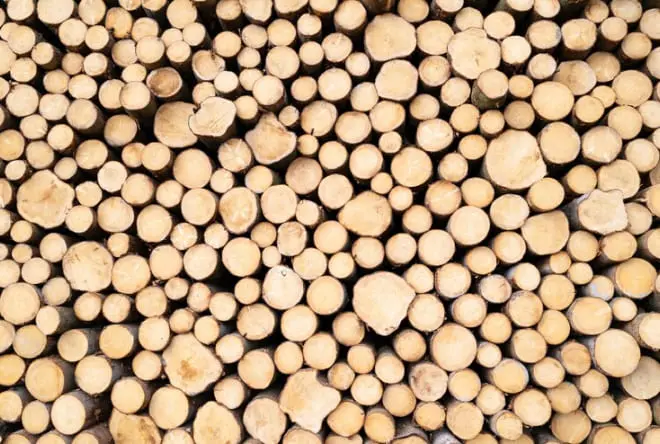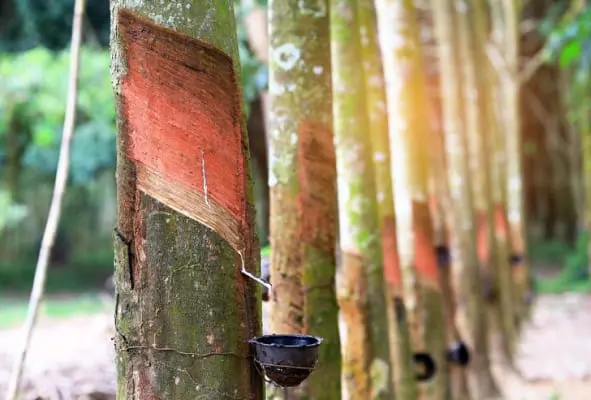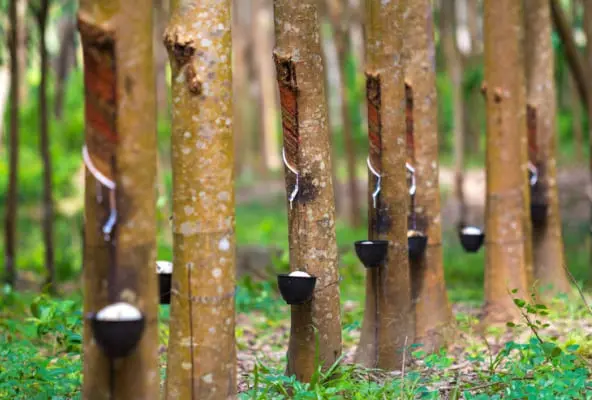 HEVEA BRASILIENSE
The natural rubber tree, is the most important commercial source of natural rubber, and it is grown on about 9 million hectares in the tropical regions of Asia, Africa, and America. With over 5,30,000 ha under rubber, India is now the third largest producer of natural rubber in the world.
At the age of 22 to 29 years, latex production becomes uneconomic, and the trees are then cut down and replanted. Thus, the rubber plantation is a sustainable source of rubber as well as timber, contributing positively to the environment.
In India, rubber is predominantly a small-holders' crop, and over 87% of the rubber comes from this sector. A rubber tree from a small holding will have about 0.57 (20 CFT) of timber, and the yield per hectare is about 150 (5295 CFT). The stem wood has a timber value of only 60%. The present total availability of rubber wood is estimated at 0.94 million /yr. and it is estimated to be 1.5 /year by the end of the decade.
Rubberwood - is wood from the Pará rubber tree (Hevea Brasiliense), often called the rubber tree.
Rubberwood, also called parawood, is used in high-end furniture. It is valued for its dense grain, minimal shrinkage, attractive color, and acceptance of different finishes. It is also prized as an "environmentally friendly" wood, as it makes use of trees that have been cut down at the end of their latex-producing cycle.
Rubberwood is one of the most misunderstood wood species in the furniture industry. The term "rubberwood" invokes a variety of misconceptions as to its features and its durability. Rubberwood (also known as Parawood in South-East Asia) is the common name for Hevea Brasiliense timber.
Rubberwood, in fact, is one of the most durable lumbers used in the manufacturing of today's home furnishings. Rubberwood, a member of the maple family, has a dense grain character that is easily controlled during the kiln drying process. Rubberwood has very little shrinkage, making it one of the more stable construction materials available for furniture manufacturing.
Like maple, rubberwood is a sap-producing species. In the case of maple, it is syrup; in the case of rubberwood, it is latex. Rubberwood produces all the latex used in the world for all rubber-based products.
There is one more feature of rubberwood that is very important in today's world. Rubberwood is the most ecologically "friendly" lumber used in today's furniture industry. After the economic life of the rubber tree, which is generally 26-30 years, the latex yields become extremely low and the planters then fell the rubber trees and plant new ones. So, unlike other woods that are cut down for the sole purpose of producing furniture, rubberwood is used only after it completes its latex producing cycle and dies. This wood is therefore eco-friendly in the sense that we are now using what was going to waste.
This eco-friendly Rubber wood (Hevea Brasiliense) is an excellent timber to use, and its various attributes are outlined here.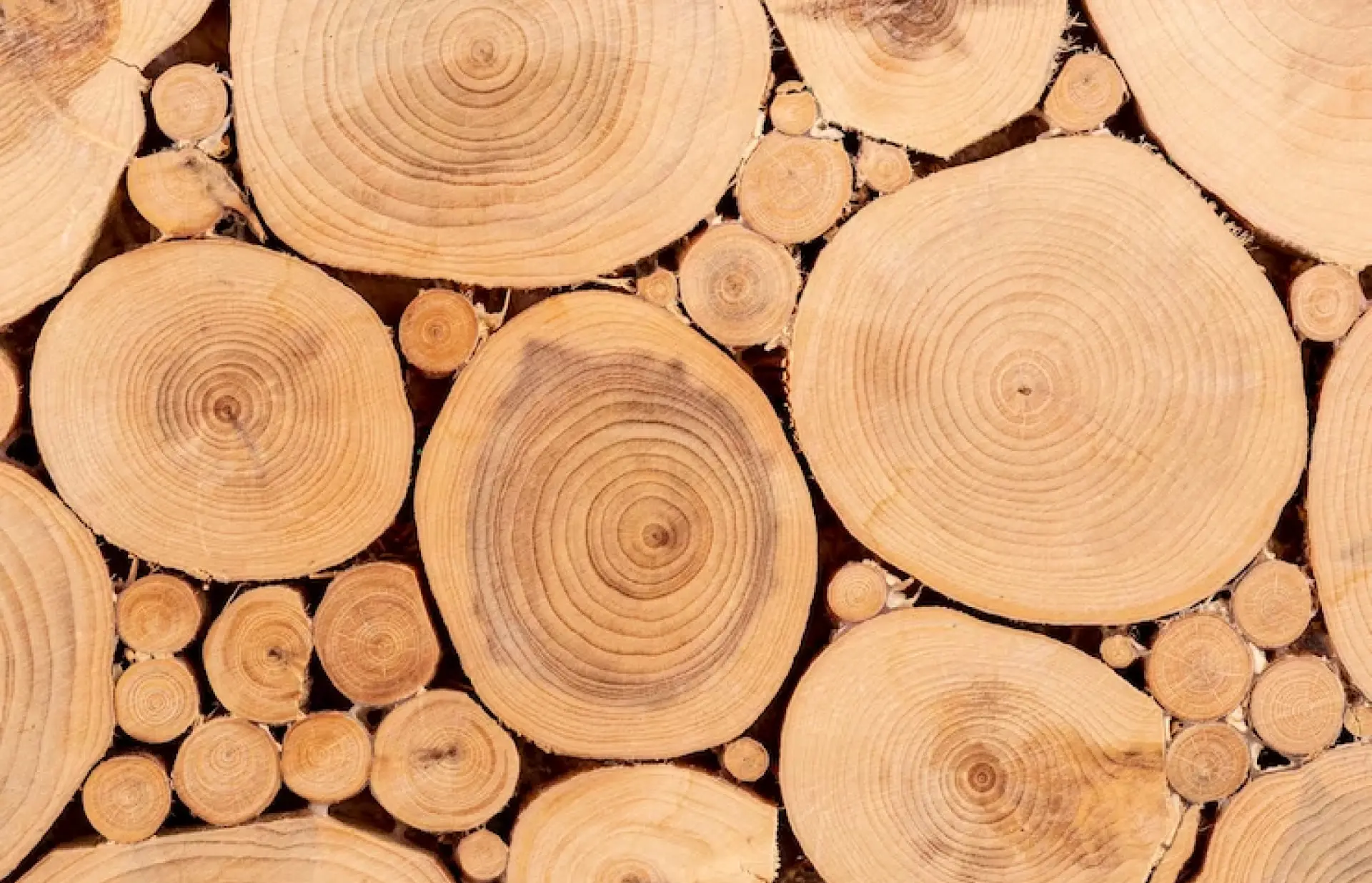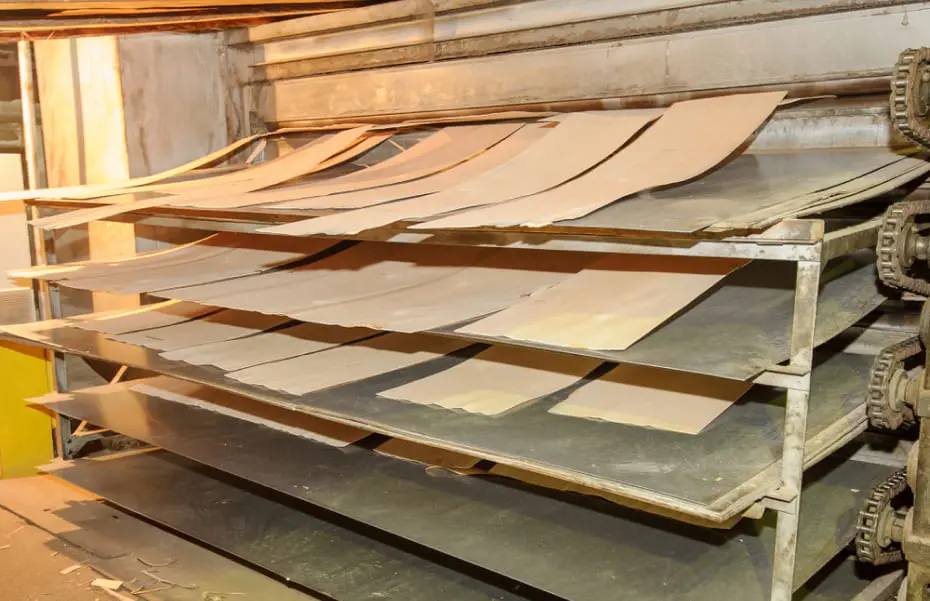 APPEARANCE
Color
Pale cream to yellowish brown. Oxidative discoloration can be limited by rapid production sequence and vacuum drying.
APPEARANCE
Grain pattern
Mostly straight. A cross section of rubber wood shows a few concentric markings reminiscent of growth rings. These markings, combined with the large vessels in their structure, give an attractive appe arance with clear patterns on the longitudinal surface. Many characteristics of rubber wood are similar to those of ramin wood.
APPEARANCE
Structure
Uniform in structure with an excellent Timber feel.
Physical properties
Density at 12% m.c.
600–620 kg/m³ (light)
Relative Density
0.63–0.66 (moderately heavy timber)
Volume Shrinkage
Negligible and comparable to Dark Red Meranti Tangential 1.4%, Radial 1%
Compression Strength
Parallel to Grain
32 N/mm²
Perpendicular to Grain
4.69 N/mm²
Bending Strength
Modulus of Rupture
66 N/mm²
Sheer Parallel to Grain
11 N/mm²
Modulus of Elasticity
9240 N/mm²
Working properties
Durability
Resistance to many fungal, bacterial, and mound attacks can also be made resistant to other specific susceptibilities.
Gluing
Good and compatible with almost all industrial grade adhesives--its glue bond strength is high.
Machining
Easy to saw, machine, plane, turn and bore. The resultant surfaces are smooth
Nail holding
Average of Radial Tangential value. - 91 kg Average of end values. - 53 kg
Screw holding
Average of Radial Tangential value. - 267 kg Average of end values. - 164 kg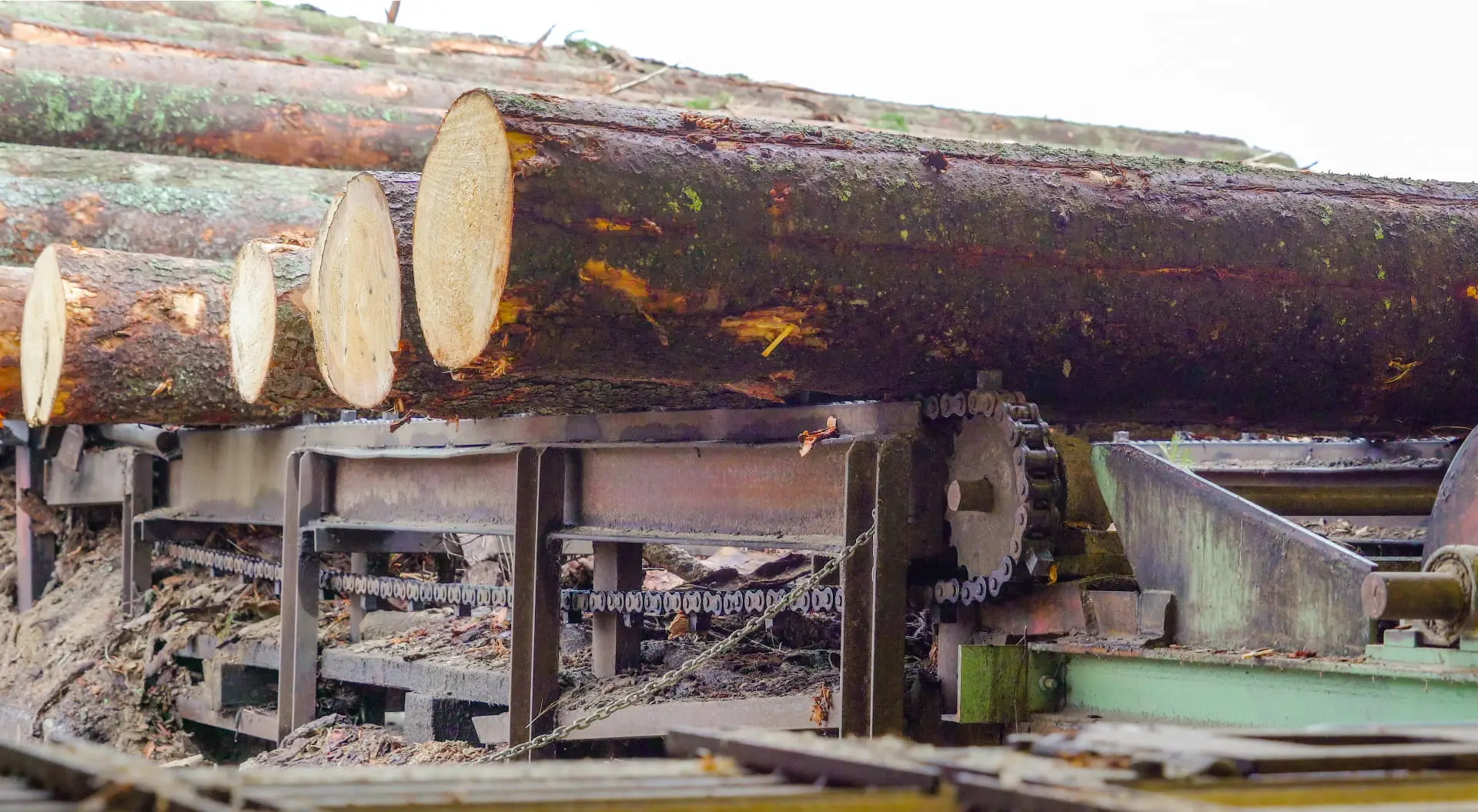 ABOUT US
Sarkar Plywood
In modern times, the making of technical woods and panels has evolved far beyond what we could have imagined a few decades ago. The introduction of new "generation timbers" has revolutionised the use of wood as a building material in infrastructural developments, including building homes, industries, transportation, agriculture, and architecture.
At Sarkar Plywood, we manufacture high-quality plywood products whose quality and excellence have been proven in the most rigorous testing grounds and continue to perform flawlessly even in the most stressful of conditions.
MORE ABOUT COMPANY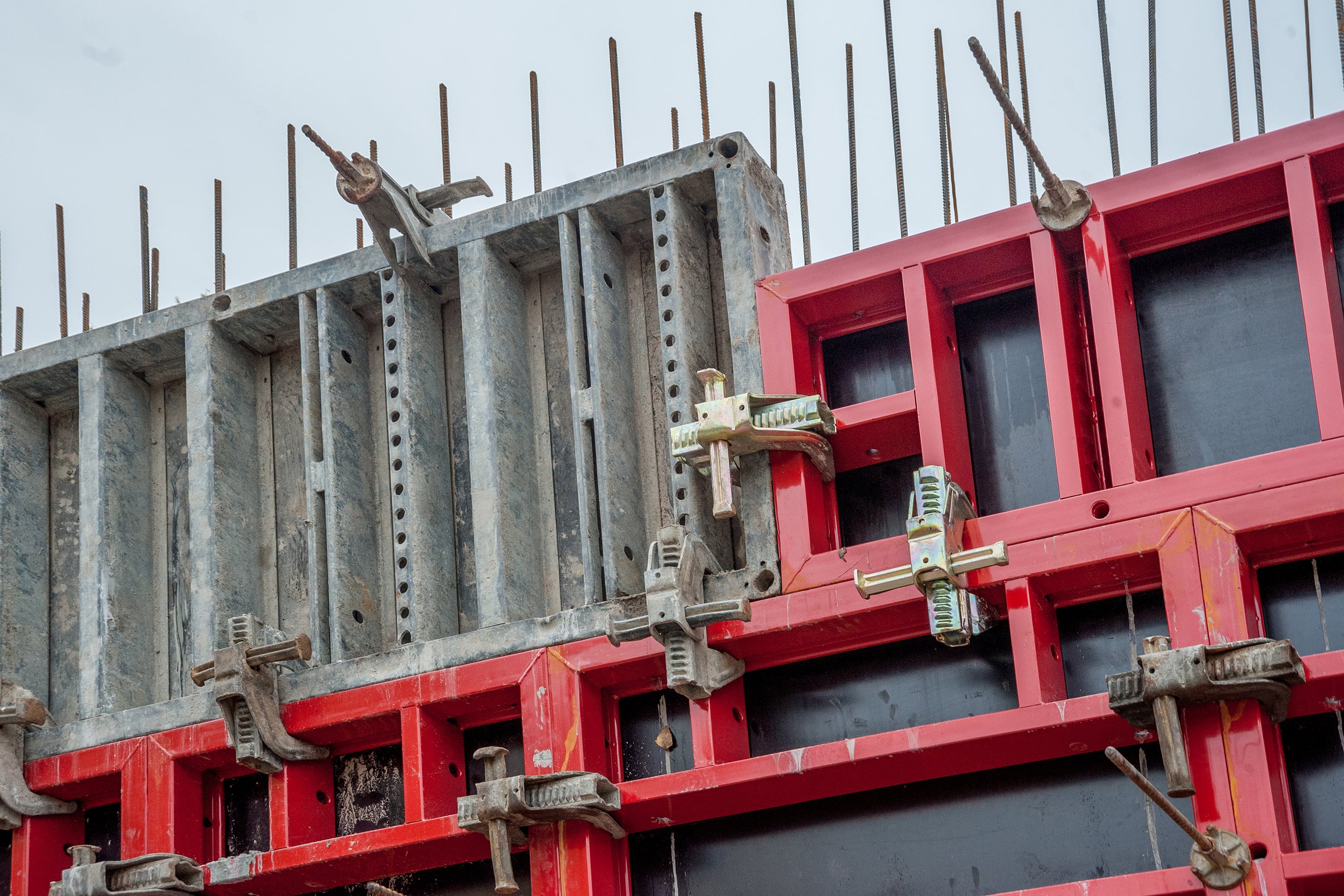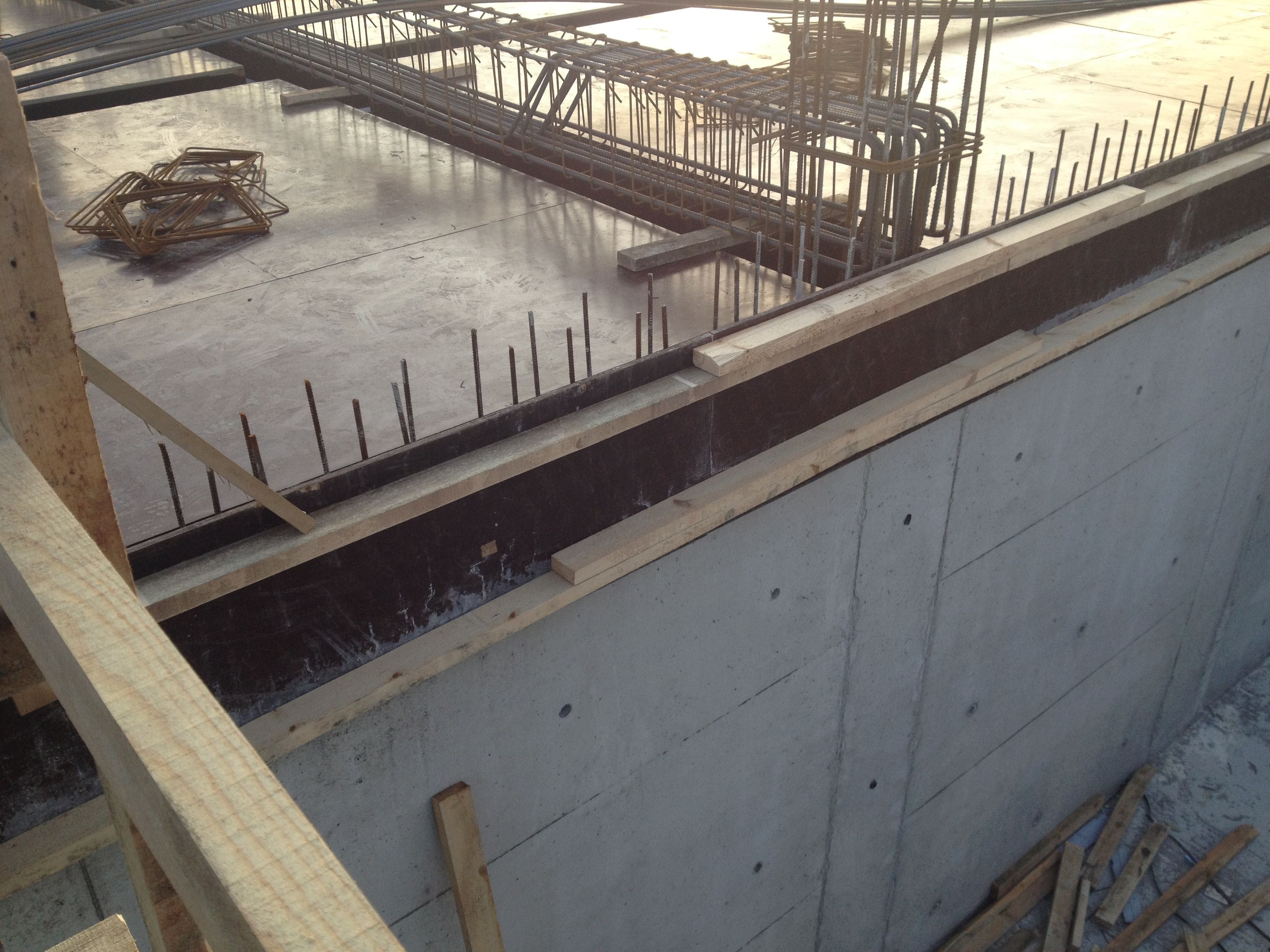 WHY US
We provide more than just quality plywood
As a family and a company we believe in absolute moral and ethical ways of life and business. This not only helps us in building trust, but we believe it is a strong human character that will only better us and our company with time.
MORE ABOUT COMPANY
We are a customer-centric company, and we place great importance on our customers and their requirements.
We provide each customer with material that meets their standard specifications.
While working with us, our clients have a feeling of enormous satisfaction, trust, and safety.